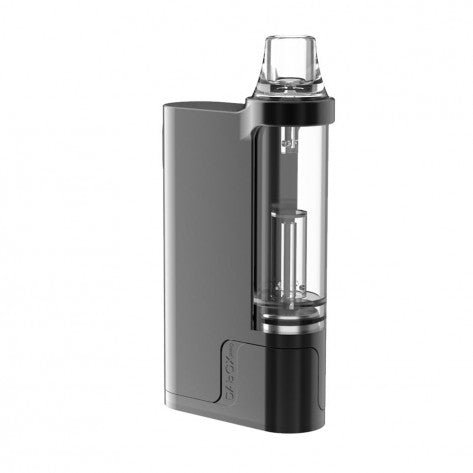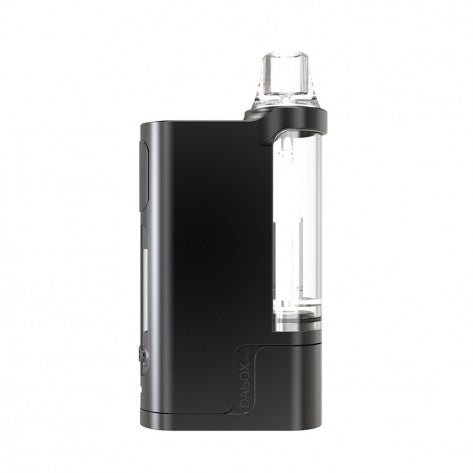 Descriptions
The
Vivant Dabox Pro 
is the ultimate portable vaporizer for waxy oils that comes with interchangeable concentrate atomizer options, an informative LED control screen and built-in water filter attachment.
It sports a design similar to the original Dabox with bottom magnetic chamber door that easily swivels open for extremely fast-access to the atomizer. Every set includes two Dabox Pro coils including the new Firecore option, pre-installed.
This wax new atomizer type offers some of the best flavor around using a fast-heating spiral trace heating element embedded beneath the all glass quartz chamber. You also have the Dual Clapton option inside the box for advanced temperature control vaping.
When you need to change a coil it's a super fast and easy process to do so with the Dabox Pro. Open the bottom door all the way to it's 90° position and then pull the coil towards you to easily remove it in just a moment. Slide your new coil into place, close the door and you're set.
Refilling your Dabox Pro is also made to be quick and effortless. The bottom door slightly opens at a 45° angle just enough to expose the coil so you can quickly add in your favorite oils using the included premium glass double sided tool.

Once you have your chamber packed and you're ready to vape, follow to the instructions to fill the water filter attachment to achieve the absolute best possible results. Quickly press the top power button 5x to turn the device on and start your first Dabox Pro session.
Press the button 3 more times and use the Dabox Pro vape's LED screen to configure your settings. Select your heater type mode according to the type of waxy atomizer you're vaping with and use the + / - buttons to choose between 5 unique temperature levels.
You can also use this screen to select your Door Safety and Stealthy Mode controls. The Door Safety option will help to notify you when the base is too hot to be opened and Stealth Mode gives you the option to vape concentrates with the screen completely off for ultra discreet sessions on the move.

After you have you're power settings selected just press/hold the power button to vape your oils as desired until finished. Monitor your temperature level on the Pro's LED screen and use it to prevent overheating/damage to your atomizer. 

Under the hood, the Dabox Pro waxy vaporizer has an upgraded 2000mAh lithium-ion battery designed to keep you vaping for much longer and worrying about recharging hardly ever.
At only 4.4 inches tall by about 2.2 inches wide, the Dabox Pro wax vape can easily fit in a pocket and go with you throughout your day. Grab one today and experience the best of the best everywhere you travel.
Check out our special Quantity Pricing on this item. Buy 2 or more and save.
100% authentic Vivant brand guaranteed
Portable handheld size
Dimensions: 55.5mm x 22mm x 113mm
Device weight: ~8.9oz
Includes 2 interchangeable coil options
New Firecore all quartz coilless element for the smoothest results
Dual Clapton quartz coil: powerful dual rod atomizer for long/smooth pulls
Ultra convenient bottom magnetic chamber door opens at 45° and 90°
First position (45°) designed for fast and easy refills
Second position (90°) designed for easy coil replacement
Innovative quick change coil: no threads, just push and slide to install/remove coil in seconds
Built-in/removable glass water filter attachment with spill-proof construction
Long-lasting and powerful 2000mah battery with life indicator
Convenient usb charging method with passthrough
Full color led display screen with user-friendly controls
Press top power button 5x to power on or lock device for safe storage
Press power button 3x to open setting options (heater type, door safety, stealth mode)
Use + / - buttons to navigate and power button to make selections
Utilizes unique heating modes for each type of coil and five preset temperature settings
Press/hold to heat chamber as desired / monitor temperature on led screen
Premium 2 sided glass filling tool and spare o-rings included
Included
1 x Vivant Dabox Pro
1 x Firecore Coil (Pre-installed)
1 x Dual Quartz Clapton Coil
1 x Glass 2 Sided Filling Tool
1 x USB Charging Cable
2 x Spare O-Rings
1 x Quick Start Guide