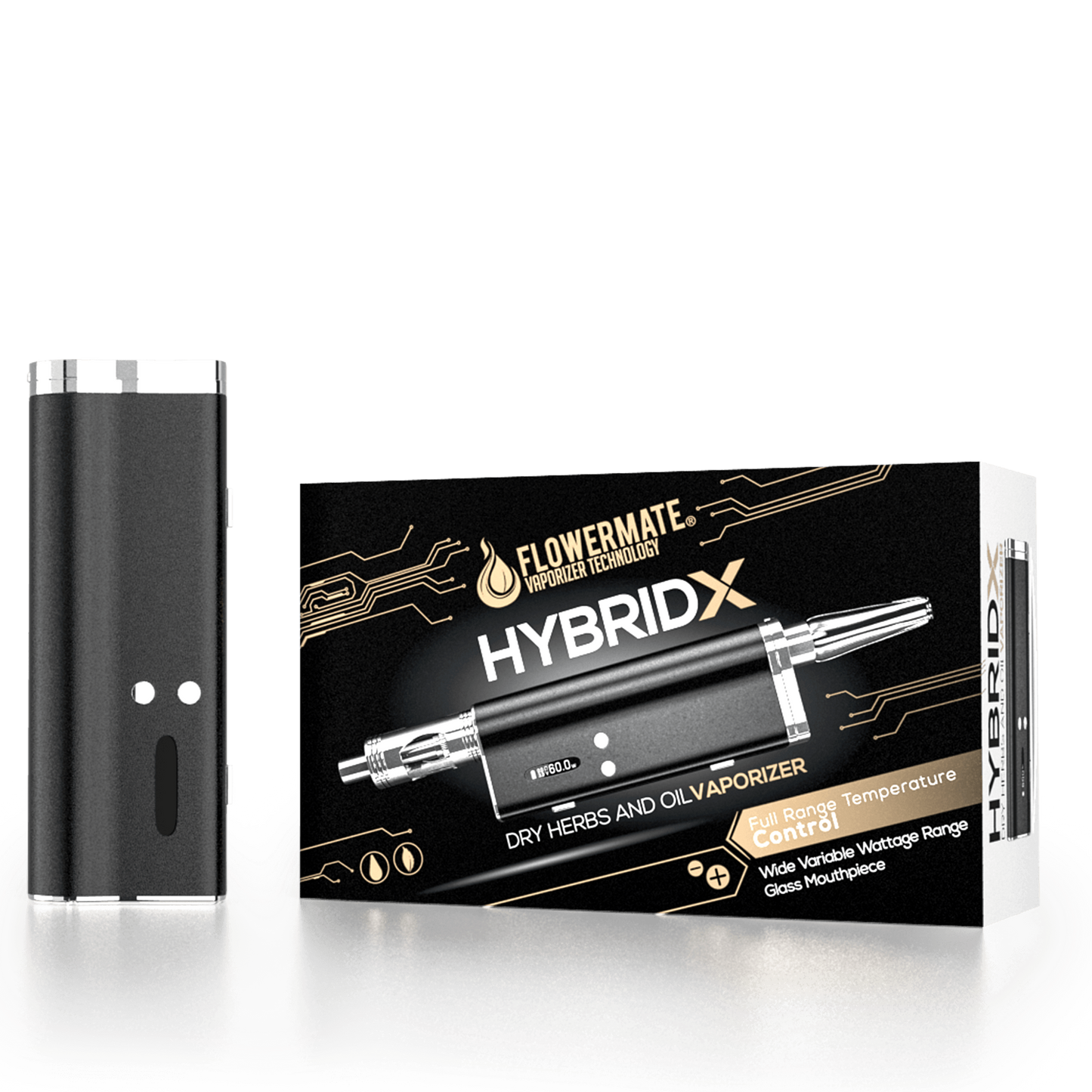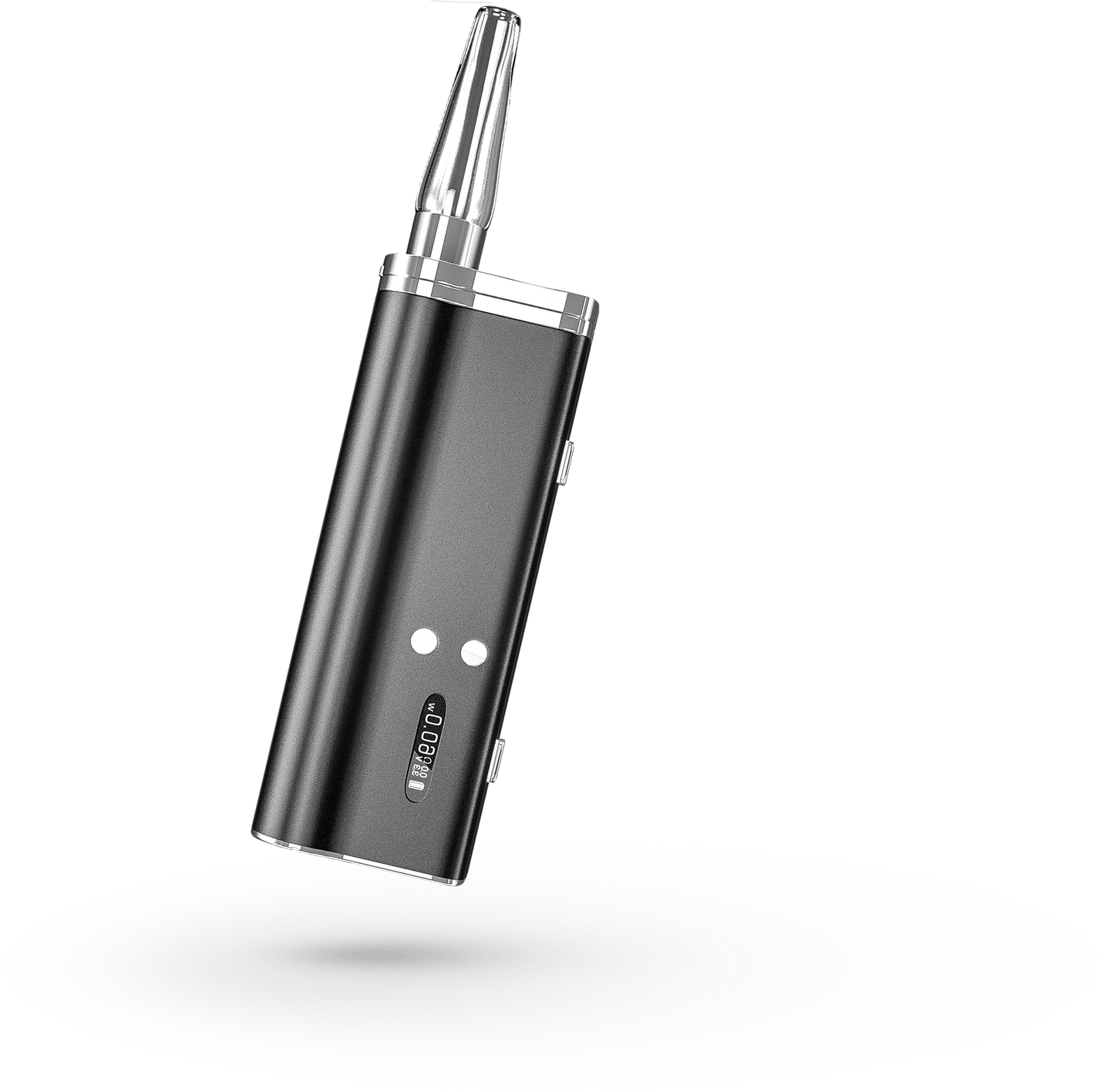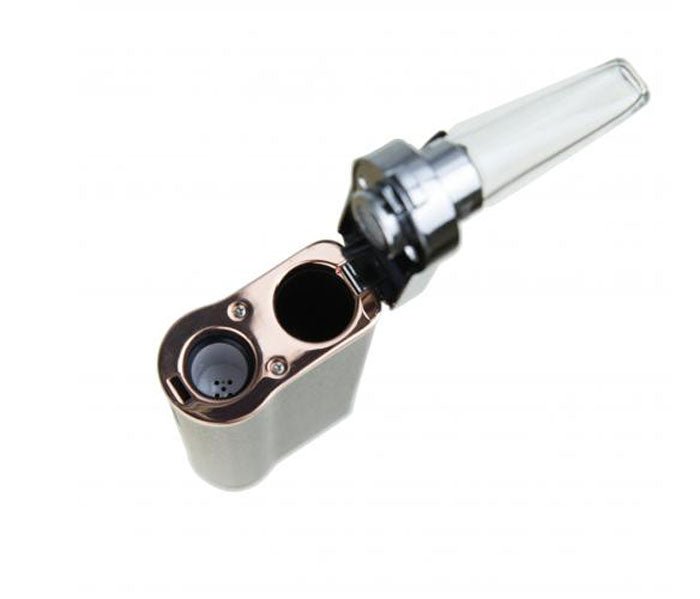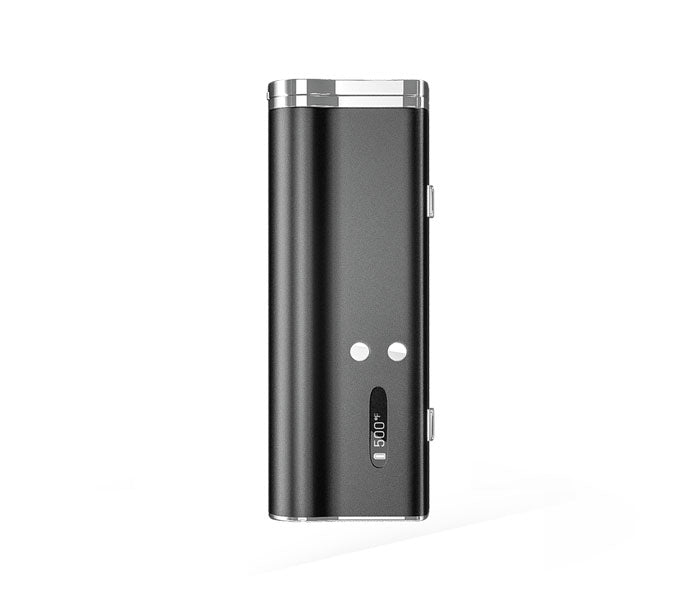 Descriptions
FLOWERMATE HYBRID X
Flowermate Hybrid X is not just another portable vaporizer. It looks very unique and it is. It not only suits for the dry her vaporizer community but also the e-cig community. So if you vape both of them this vaporizer can be the solution for you. A compact device that fits everybody.
Altogether the device is nicely designed with an aluminum case that looks sleek and elegant. The materials used in it are high quality and durable. The chamber is ceramic, the mouthpiece is stainless steel, which additionally cools down the vapor. The casing of the device is from aluminum.
On one side of the device is the dry herb/wax part. You open the flip-top lid and the glass mouthpiece is nicely put away in storage space. So you don't have to worry about losing or breaking it because you can just put it back in the storage place. On the other hand, the other side has an e-liquid part, where you screw on the Smiss Subx Ohm Tank that comes in the kit.
FLOWERMATE HYBRID X – DRY HERB / WAX PART
The Flowermate Hybrid X is a dual-use vaporizer that can handle both herbs and waxes. The kit includes two steel pods that allow for easy packing and placement in the chamber. Alternatively, you can also place herbs directly into the heating chamber for maximum flavor and vapor output. The steel pods can hold up to 0.2g of dry herbs each. The temperature on this side ranges from 40-260°C, and the device heats up quickly in about 15 seconds.
FLOWERMATE HYBRID X – E-LIQUID PART
The Flowermate Hybrid X also offers the capability to vaporize e-liquids. The basic kit includes everything needed to get started, simply screw on the Ohm tank, fill it with your desired liquid, and begin vaping. The device is designed to be leak-proof for added convenience. This side of the device operates on voltage, similar to other e-cigarettes. The device offers a range of 2V to 60V, allowing you to adjust the vapor density to your desired level.
THE VAPOR
This device offers dense, flavorful, and cool vapor. And also, no matter what you are vaping it clearly gives you very dense and strong vapor.
BATTERY
Additionally, the Flowermate Hybrid X is equipped with a 1500 mAh battery, which may not be sufficient given the device's powerful capabilities for evaporating herbs, waxes, and liquids. It may cause the battery to run out quickly.
THE KIT INCLUDES
Hybrid X device
Smiss SubX Sub ohm tank
An extra coil of SubX tank
Borosilicate glass mouthpiece
Medium stainless steel pod
Liquid/wax chamber (Organic cotton)
5x Stainless steel screens
Packing and dabbing tool
Cleaning brush
Micro USB charging cable
Warranty
User guide