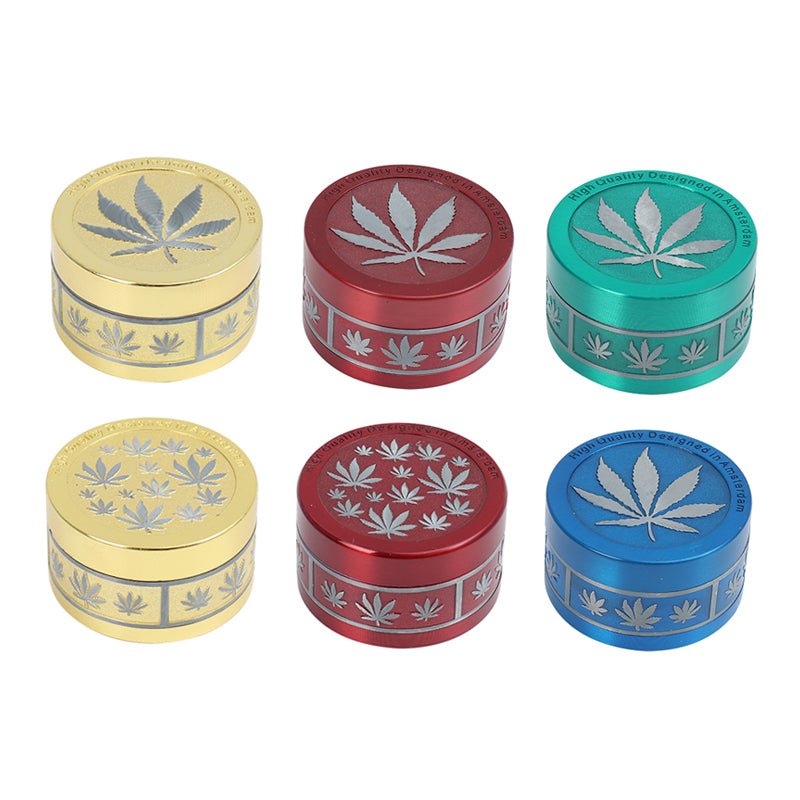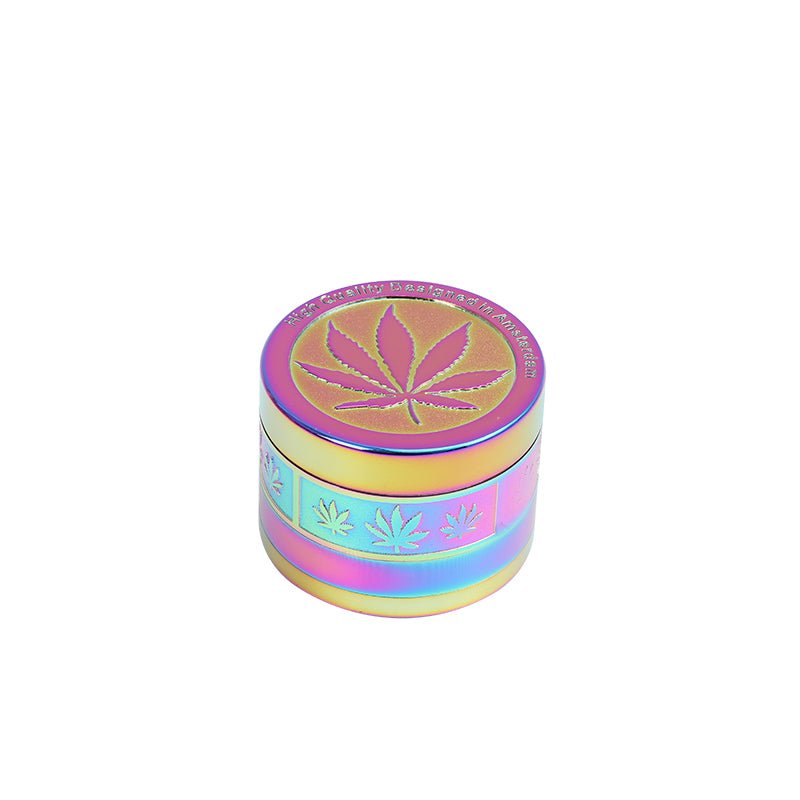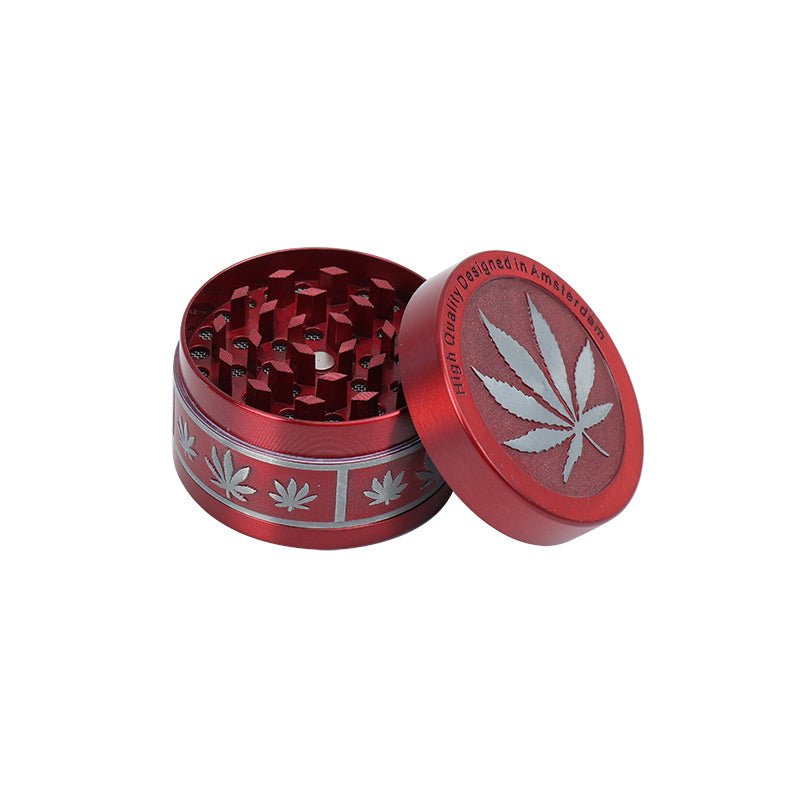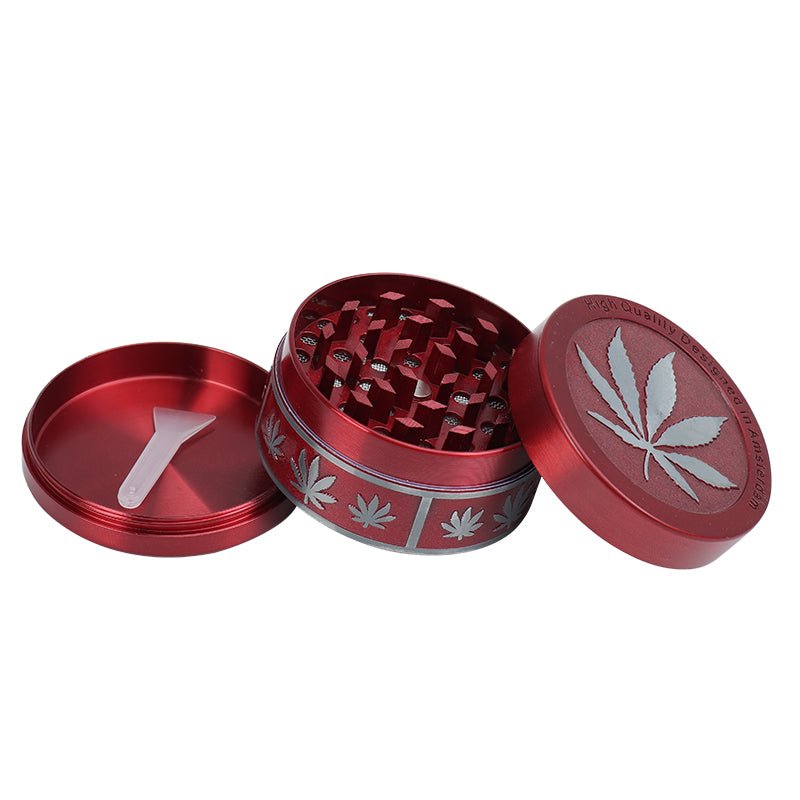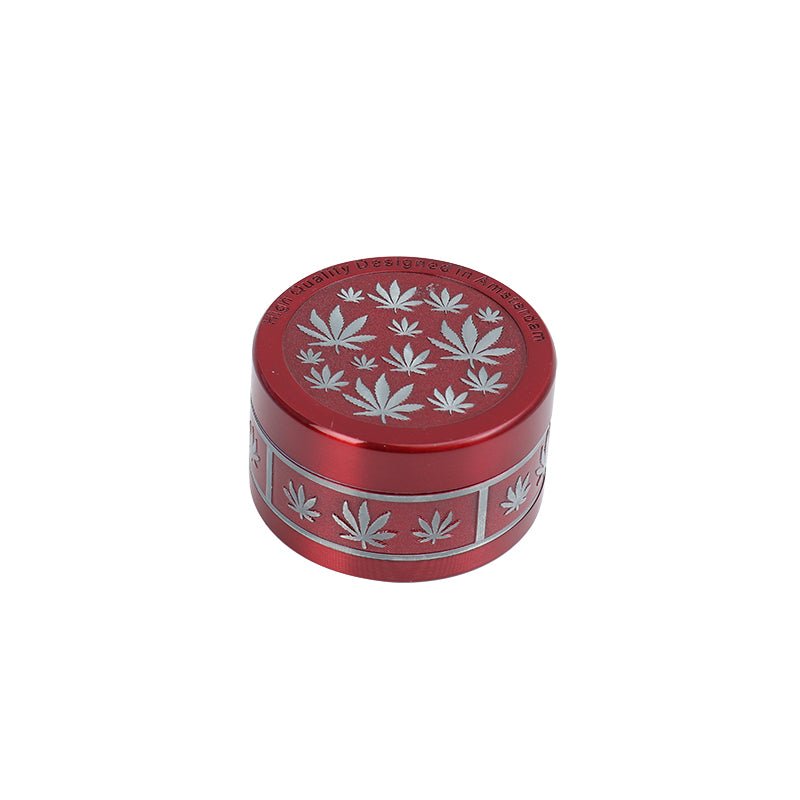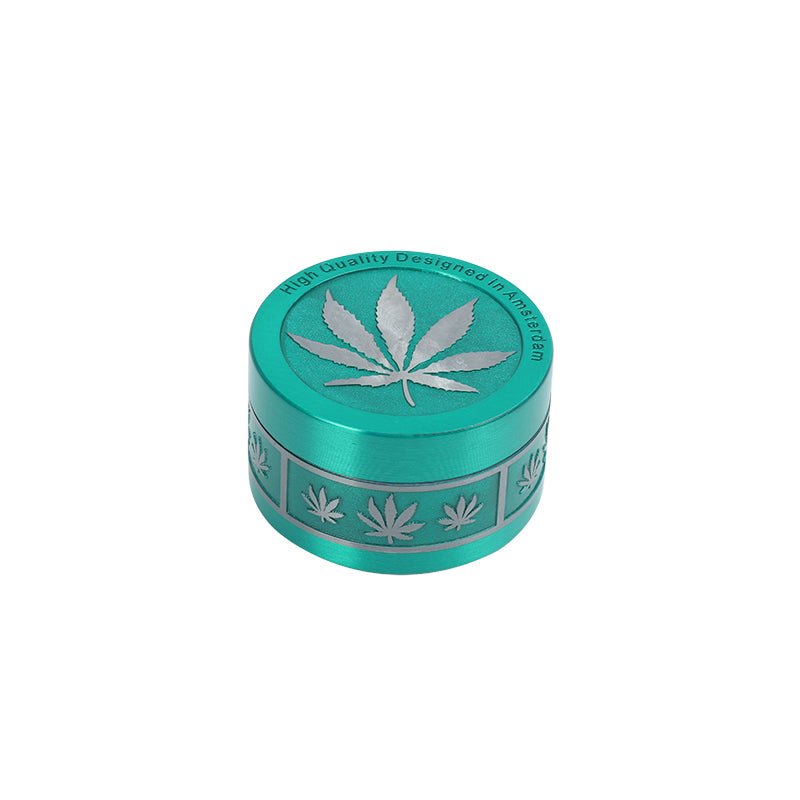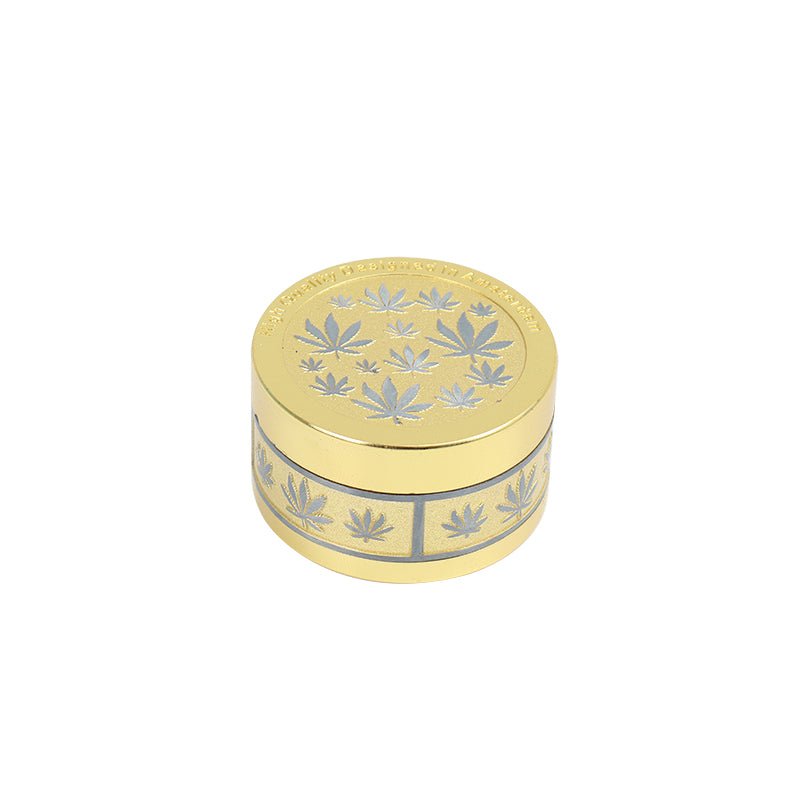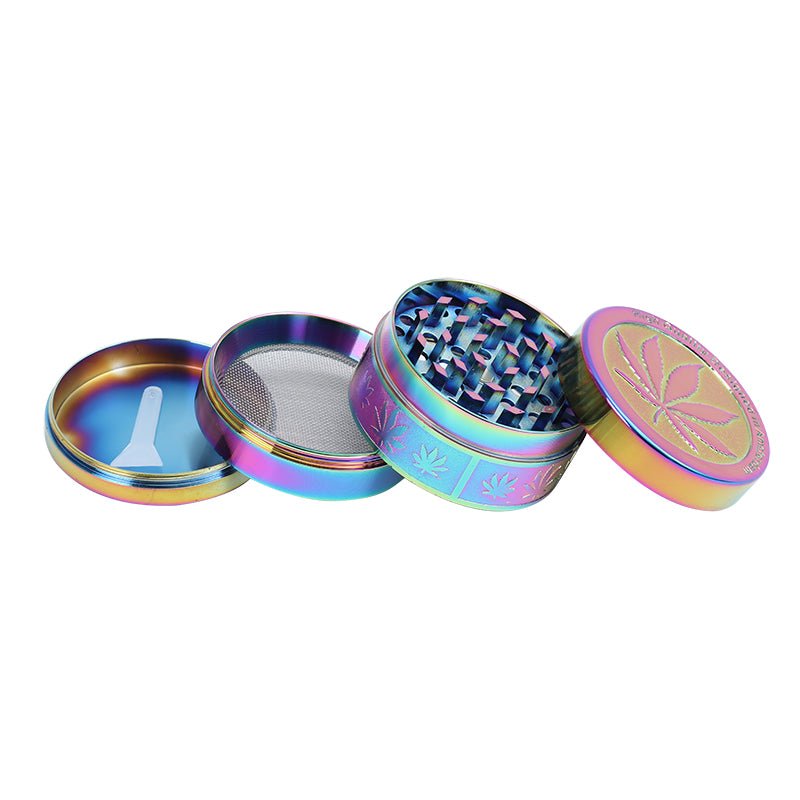 Descriptions
The Premium Leaf Solid Pattern Aluminum Grinder is a stylish and practical grinding tool designed to enhance your grinding experience. Crafted from high-quality aluminum, this grinder ensures durability and longevity, making it a reliable companion for grinding herbs or spices.
With a diameter of 48mm, this grinder offers a spacious grinding chamber that can handle a generous amount of herbs or spices at once. Its larger size allows for efficient grinding, enabling you to prepare your ingredients quickly and effortlessly. Whether you're grinding herbs for culinary purposes or preparing them for smoking, this grinder's size provides ample room for a consistent and even grind.
The standout feature of this grinder is its solid pattern in a vibrant green color. The solid pattern adds a sleek and modern aesthetic to the grinder's overall design, making it visually appealing. The green color evokes a sense of freshness and vitality, adding a touch of vibrancy to your grinding routine.
Diameter- 40mm
Note: Leaf Pattern on the grinder will be chosen at our own discretion and may vary depending upon stock availability.
You may also like
Regular price

Sale price

$35.00 NZD

Unit price

per

Regular price

Sale price

$20.00 NZD

Unit price

per

Regular price

Sale price

$11.99 NZD

Unit price

per

Regular price

Sale price

$15.00 NZD

Unit price

per

Regular price

Sale price

$3.00 NZD

Unit price

per

Regular price

Sale price

$25.00 NZD

Unit price

per

Regular price

Sale price

$29.99 NZD

Unit price

per

Regular price

Sale price

$10.00 NZD

Unit price

per

Regular price

Sale price

$10.00 NZD

Unit price

per

Regular price

Sale price

$25.00 NZD

Unit price

per

Regular price

Sale price

$12.00 NZD

Unit price

per

Regular price

Sale price

$30.00 NZD

Unit price

per

Regular price

Sale price

$30.00 NZD

Unit price

per

Regular price

Sale price

$25.00 NZD

Unit price

per

Regular price

Sale price

$12.00 NZD

Unit price

per

Regular price

Sale price

$45.00 NZD

Unit price

per

Regular price

Sale price

$125.00 NZD

Unit price

per

Regular price

Sale price

$10.00 NZD

Unit price

per

Regular price

Sale price

$25.00 NZD

Unit price

per

Regular price

Sale price

$25.00 NZD

Unit price

per

Regular price

Sale price

$45.00 NZD

Unit price

per

Regular price

Sale price

$35.00 NZD

Unit price

per

Regular price

Sale price

$55.00 NZD

Unit price

per

Regular price

Sale price

$50.00 NZD

Unit price

per

Regular price

Sale price

$40.00 NZD

Unit price

per

Regular price

Sale price

$25.00 NZD

Unit price

per

Regular price

Sale price

$50.00 NZD

Unit price

per

Regular price

Sale price

$12.00 NZD

Unit price

per

Regular price

Sale price

$70.00 NZD

Unit price

per

Regular price

Sale price

$20.00 NZD

Unit price

per

Regular price

Sale price

$64.99 NZD

Unit price

per

Regular price

Sale price

$54.99 NZD

Unit price

per

Regular price

Sale price

$25.00 NZD

Unit price

per

Regular price

$74.99 NZD

Sale price

$55.00 NZD

Unit price

per

Regular price

Sale price

$629.99 NZD

Unit price

per

Regular price

Sale price

$50.00 NZD

Unit price

per

Regular price

Sale price

$64.99 NZD

Unit price

per

Regular price

Sale price

$80.00 NZD

Unit price

per

Regular price

Sale price

$54.99 NZD

Unit price

per

Regular price

Sale price

$7.00 NZD

Unit price

per

Regular price

Sale price

$105.00 NZD

Unit price

per

Regular price

Sale price

$449.99 NZD

Unit price

per

Regular price

Sale price

$64.99 NZD

Unit price

per

Regular price

Sale price

$79.99 NZD

Unit price

per

Regular price

Sale price

$110.00 NZD

Unit price

per

Regular price

Sale price

$35.00 NZD

Unit price

per

Regular price

Sale price

$30.00 NZD

Unit price

per

Regular price

Sale price

$40.00 NZD

Unit price

per

Regular price

Sale price

$10.00 NZD

Unit price

per

Regular price

Sale price

$14.99 NZD

Unit price

per

Regular price

Sale price

$27.99 NZD

Unit price

per

Regular price

Sale price

$18.00 NZD

Unit price

per

Regular price

Sale price

$12.00 NZD

Unit price

per

Regular price

Sale price

$35.00 NZD

Unit price

per

Regular price

Sale price

$40.00 NZD

Unit price

per

Regular price

$49.99 NZD

Sale price

$39.99 NZD

Unit price

per

Regular price

$334.95 NZD

Sale price

$299.99 NZD

Unit price

per

Regular price

$24.99 NZD

Sale price

$14.99 NZD

Unit price

per

Regular price

Sale price

$20.00 NZD

Unit price

per

Regular price

Sale price

$79.99 NZD

Unit price

per

Regular price

Sale price

$54.99 NZD

Unit price

per

Regular price

Sale price

$69.99 NZD

Unit price

per

Regular price

Sale price

$35.00 NZD

Unit price

per

Regular price

Sale price

$30.00 NZD

Unit price

per

Regular price

Sale price

$34.99 NZD

Unit price

per

Regular price

Sale price

$15.99 NZD

Unit price

per

Regular price

Sale price

$18.00 NZD

Unit price

per

Regular price

Sale price

$24.99 NZD

Unit price

per

Regular price

Sale price

$79.99 NZD

Unit price

per

Regular price

Sale price

$25.00 NZD

Unit price

per

Regular price

Sale price

$125.00 NZD

Unit price

per

Regular price

Sale price

$210.00 NZD

Unit price

per

Regular price

Sale price

$34.99 NZD

Unit price

per

Regular price

Sale price

$35.00 NZD

Unit price

per

Regular price

Sale price

$35.00 NZD

Unit price

per

Regular price

Sale price

$5.00 NZD

Unit price

per

Regular price

Sale price

$35.00 NZD

Unit price

per

Regular price

Sale price

$45.00 NZD

Unit price

per

Regular price

$32.00 NZD

Sale price

$22.00 NZD

Unit price

per

Regular price

Sale price

$30.00 NZD

Unit price

per

Regular price

Sale price

$49.99 NZD

Unit price

per

Regular price

Sale price

$54.99 NZD

Unit price

per

Regular price

Sale price

$5.50 NZD

Unit price

per

Regular price

Sale price

$5.50 NZD

Unit price

per

Regular price

$64.99 NZD

Sale price

$59.99 NZD

Unit price

per

Regular price

Sale price

$35.00 NZD

Unit price

per

Regular price

$99.00 NZD

Sale price

$79.99 NZD

Unit price

per

Regular price

Sale price

$5.00 NZD

Unit price

per

Regular price

Sale price

$94.99 NZD

Unit price

per

Regular price

Sale price

$3.00 NZD

Unit price

per

Regular price

Sale price

$40.00 NZD

Unit price

per

Regular price

Sale price

$10.00 NZD

Unit price

per

Regular price

$59.99 NZD

Sale price

$45.00 NZD

Unit price

per

Regular price

Sale price

$25.00 NZD

Unit price

per

Regular price

Sale price

$40.00 NZD

Unit price

per

Regular price

Sale price

$45.00 NZD

Unit price

per

Regular price

Sale price

$25.00 NZD

Unit price

per

Regular price

Sale price

$84.99 NZD

Unit price

per

Regular price

Sale price

$89.99 NZD

Unit price

per

Regular price

Sale price

$89.99 NZD

Unit price

per

Regular price

Sale price

$165.00 NZD

Unit price

per

Regular price

Sale price

$95.00 NZD

Unit price

per

Regular price

Sale price

$12.99 NZD

Unit price

per

Regular price

Sale price

$11.99 NZD

Unit price

per

Regular price

Sale price

$11.99 NZD

Unit price

per

Regular price

Sale price

$70.00 NZD

Unit price

per

Regular price

Sale price

$37.99 NZD

Unit price

per

Regular price

Sale price

$94.99 NZD

Unit price

per

Regular price

Sale price

$54.99 NZD

Unit price

per

Regular price

Sale price

$135.00 NZD

Unit price

per

Regular price

Sale price

$89.99 NZD

Unit price

per

Regular price

Sale price

$60.00 NZD

Unit price

per

Regular price

Sale price

$99.00 NZD

Unit price

per

Regular price

Sale price

$99.00 NZD

Unit price

per

Regular price

$129.00 NZD

Sale price

$99.00 NZD

Unit price

per

Regular price

Sale price

$45.00 NZD

Unit price

per

Regular price

Sale price

$15.00 NZD

Unit price

per

Regular price

Sale price

$125.00 NZD

Unit price

per

Regular price

Sale price

$5.00 NZD

Unit price

per

Regular price

Sale price

$7.99 NZD

Unit price

per

Regular price

Sale price

$70.00 NZD

Unit price

per

Regular price

Sale price

$40.00 NZD

Unit price

per

Regular price

Sale price

$40.00 NZD

Unit price

per

Regular price

Sale price

$120.00 NZD

Unit price

per

Regular price

Sale price

$79.99 NZD

Unit price

per

Regular price

Sale price

$85.00 NZD

Unit price

per

Regular price

Sale price

$80.00 NZD

Unit price

per

Regular price

Sale price

$3.00 NZD

Unit price

per

Regular price

Sale price

$3.00 NZD

Unit price

per

Regular price

Sale price

$15.00 NZD

Unit price

per

Regular price

Sale price

$230.00 NZD

Unit price

per

Regular price

Sale price

$35.00 NZD

Unit price

per

Regular price

Sale price

$44.99 NZD

Unit price

per

Regular price

Sale price

$59.99 NZD

Unit price

per

Regular price

Sale price

$30.00 NZD

Unit price

per

Regular price

Sale price

$35.00 NZD

Unit price

per

Regular price

Sale price

$70.00 NZD

Unit price

per

Regular price

Sale price

$120.00 NZD

Unit price

per

Regular price

Sale price

$5.99 NZD

Unit price

per

Regular price

Sale price

$99.00 NZD

Unit price

per

Regular price

Sale price

$99.99 NZD

Unit price

per

Regular price

Sale price

$19.99 NZD

Unit price

per